Home » Blog » Physician Spotlight: Dr. Melanie Hill
Physician Spotlight: Dr. Melanie Hill
Posted by: South Georgia / North Florida Eye Partners in Blog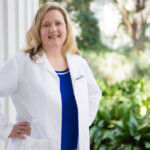 This month our doctor spotlight is on Dr. Melanie Hill.  Dr. Hill works in our Madison, Florida, office and has been a great addition to the South Georgia/North Florida Eye Partners team.  Dr. Hill graduated from the Southern College of Optometry in Memphis, Tennessee, where she met her husband, Cory.  They graduated together, and moved together to Cory's native Florida in 2000.  They have now been married for 18 years.
Dr. Hill got her undergraduate degree at the University of Missouri and is a huge sports fan…she loves her Mizzou Tigers!  She also is an avid St. Louis Cardinals fan – as she says, "I take my baseball very seriously."  She and her husband have two children, Reagan (13) and Cooper (8).  Dr. Hill says most of her free time is spent chasing her kids and being a "typical taxi mom" – taking their kids to ballet and baseball and back again.  The Hills also love to snow ski (they try to take a trip once a year) as well as playing their pool and grilling out.
Dr. Hill and her family are very active at Faith Presbyterian Church in Tallahassee.  She is an Elder at their church and the co-Moderator of the Children and Families Committee as well as a Sunday school teacher.
When reflecting on her adopted hometown of Madison and her team at South Georgia/North Florida Eye Partners, Dr. Hill says, "I grew up in a small town, and in many ways, Madison reminds me of home.  I love that in a small town I am able to take care of generations of families.  Joining SGEP has been a huge blessing.  We have so many more resources available to us now.  Having Dr. Petermann come into the Madison office monthly saves people rom having to travel so far."  Dr. Hill also added that "there is just a higher level of care that I am so glad can be given to the people in Madison county."
We are proud to have you on our team, Dr. Hill.  You have added so much to our practice.
Tags:
dr. melanie hill
,
Dr. Scott Petermann
,
eye doctors madison fl
,
eye doctors north florida
,
eye doctors south georgia
,
eye doctors valdosta
,
eye exams north florida
,
eye exams south georgia
,
family eye care north florida
,
family eye care Valdosta
,
optometrists in madison fl
,
optometrists madison fl
,
South Georgia Eye Partners
,
south georgia north florida eye partners
---