Home » Blog » Want Scary Eyes for Halloween? What You Need to Know About Decorative Contacts
Want Scary Eyes for Halloween? What You Need to Know About Decorative Contacts
Posted by: South Georgia / North Florida Eye Partners in Blog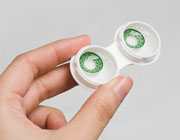 Halloween is a popular time for people to use decorative contact lenses. But most people do not know the sight-stealing consequences behind making these choices. Obtaining decorative lenses including colored contacts and novelty or costume lenses without a prescription is dangerous. Websites often advertise decorative contacts as if they were cosmetics, fashion accessories or toys, and their targets are often teens.
The American Academy of Ophthalmology and its EyeSmart® public education program are warning parents and teens that purchasing any contact lenses without an eye examination and a prescription from a licensed eye care professional can cause serious eye disorders and infections, which may lead to blindness. Even if someone has perfect vision, he or she needs to get an eye exam and a prescription in order to wear any kind of contacts, including cosmetic lenses.
What You Need to Know
It is illegal to sell decorative lenses without a prescription in the United States. Since 2005, the law has classified all contact lenses as medical devices and restricted their distribution to licensed eye care professionals.
See an eye care professional before using any decorative lenses: and ophthalmologist or optometrist must measure each eye in order to properly fit the contact lenses to the individual patient.
Lenses that are not properly fitted may scratch the eye or cause blood vessels to grow into the cornea (the clear covering of the front of the eye that is essential to seeing clearly).
Using any contact lenses obtained without an eye exam and prescription can lead to serious eye disorders and eye infections, which can ultimately cause permanent vision loss.
Contacts that are not cleaned and disinfected properly can cause painful and potentially serious infections.
Need more convincing? Check out the Academy's 30- and 90-second public service announcement videos. If you have any questions about decorative contacts, just give South Georgia Eye Partners a call.
This article reprinted with permission from the American Academy of Ophthalmology's EyeSmart® program (www.geteyesmart.org).
Tags:
colored contact lenses
,
contact lens abuse
,
contact lens care
,
contact lenses
,
Contacts
,
cosmetic contact lenses
,
decorative contacts
,
eye doctor douglas
,
eye doctor Tifton
,
eye doctor Valdosta
,
South Georgia Eye Partners
---