Home » Blog » Cataract Surgery: Peggy Clements & Her Story
Cataract Surgery: Peggy Clements & Her Story
Posted by: South Georgia / North Florida Eye Partners in News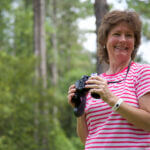 Considering cataract surgery?  Have a talk with Peggy Clements, and you'll probably be convinced to go for it.  After having cataract surgery performed by South Georgia/North Florida Eye Partners' Dr. Wes Ross, Peggy is now doing some of her favorite things – without the use of eye glasses or contacts!
Peggy, a Tifton native, started experiencing blurry vision – and her cataracts came on her quickly.  Some of the things she loved doing most were becoming more difficult – even with her glasses.  Making pancakes with her grandsons, reading the Bible, and birdwatching all became less and less enjoyable.  When she had her consultation with Dr. Ross and he diagnosed her with cataracts, they made a plan to proceed with surgery.
During traditional cataract surgery, Dr. Ross uses surgical blades to manually remove the clouded lens and replace it with a new lens for clearer vision. In conjunction with traditional surgery, just like with LenSx®,  Dr. Petermann and Dr. Ross can use special lenses such as the ReSTOR® and Crystalens® to help with distance, near and intermediate vision. They can also use techniques and lenses to eliminate astigmatism and help patients achieve greater spectacle independence.
After surgery, Peggy can see everything much more clearly.  She even threaded a needle the other day!  Her world has become much brighter.  If you're experiencing blurry vision and think you may be developing or have cataracts, give us a call for a consultation.  It could change your quality of life!
Tags:
Cataract Surgery
,
cataract surgery south georgia
,
cataract surgery south georgia eye partners
,
cataract surgery valdosta
,
dr. wes ross
,
eye doctors tif ton
,
eye doctors tifton
,
eye doctors valdosta
,
South Georgia Eye Partners
,
tifton cataract surgery
,
valdosta cataract surgery
---