Home » Blog » Dr. Alan Peaslee Recognized for 35 Years of Military Service
Dr. Alan Peaslee Recognized for 35 Years of Military Service
Posted by: South Georgia / North Florida Eye Partners in Blog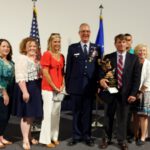 South Georgia Eye Partners' Dr. Alan Peaslee was recently recognized for his nearly 35 years of military service, and is officially retiring from his position as Medical Operations Officer for the 201st Homeland Response Force (HRF) under the Georgia National Guard.  Lieutenant Colonel Peaslee began his military career in 1984 in the Army Reserve Officer Training Corps and was a Distinguished Military Graduate of Knox College in Illinois.

Peaslee continued to serve throughout his educational career at the University of Alabama at Birmingham.  His military assignments took him everywhere from Texas to Kentucky and Iowa to Saudi Arabia.  After coming to Georgia in 1998 as the Chief of Optometry Services for the 116th Air Control Wing, Air National Guard at Robins AFB, Peaslee continued to serve the Air National Guard and Georgia National Guard until his retirement this month.  

The major awards and decorations Dr. Peaslee received throughout his military career are too numerous to mention, but they do include the Humanitarian Service Medal, Air Force Outstanding Unit Award with 6 Oak Leaf Clusters, Global War on Terrorism Service Medal, Georgia Meritorious Service Medal with Boar Head and the Chief Biomedical Science Corps Badge.

Because of Dr. Scott Petermann's respect and admiration for our military, Dr. Peaslee was able to serve double duty as both active member of the military and one of the lead optometrists at South Georgia Eye Partners.  SGEP is honored to have Dr. Peaslee on staff and is thrilled that he will continue on as a practicing board certified optometrist in our offices.  

Congratulations to our colleague and friend on such a distinguished military career, and we look forward to having you in our offices for years to come.
South Georgia Eye Partners – with locations in Valdosta, Tifton, Douglas & Madison, FL – specializes in LASIK and cataract surgery with premium lens implants, glaucoma diagnosis and treatment, comprehensive eye exams for adults and children and a Dry Eye Clinic. SGEP also has an Optical Shop fully stocked with designer frames and sunglasses to fit your style and personality.  To make an appointment with one of SGEP's physicians or to find our locations and hours, click here
Tags:
alan peaslee military
,
dr. alan peaslee
,
Dr. Peaslee
,
Dr. Scott Petermann
,
eye doctors south georgia
,
eye doctors tifton
,
eye doctors valdosta
,
peaslee military service
,
South Georgia Eye
,
South Georgia Eye Partners
,
South Georgia Eye Partners Tifton
---