Home » Blog » Dr. Petermann Opens South Georgia Eye Partners
Dr. Petermann Opens South Georgia Eye Partners
Posted by: South Georgia / North Florida Eye Partners in News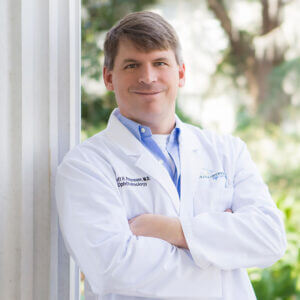 Dr. Scott Petermann, formerly an ophthalmologist with The Eye Center at Affinity, announces the opening of his new practice, South Georgia Eye Partners. Petermann will remain in his current locations in Valdosta, Tifton and Douglas. He will also continue to conduct LASIK and cataract surgery for South Georgia as well as have Dr. Alan Peaslee, Dr. Eric Kolisz and Dr. Henry Brewer, all board-certified optometrists, on staff to perform comprehensive eye care services.
"I felt it was time for me to branch out and open my own practice," said Dr. Scott Petermann, board-certified Ophthalmologist and owner of South Georgia Eye Partners. "Nothing is really going to change except our name. Patients will see the same physicians and staff in the same locations, and they will continue to receive the quality of care they've come to expect from us."
In conjunction with opening South Georgia Eye Partners, Dr. Peterman also welcomes Shirley Enfinger, ABOC, NCLEC, LDO to the practice. Enfinger, who has 35 years of optical experience, will serve as Optical Manager for South Georgia Eye Partners and handle sales, frame selections, implementation of new optical programs and merchandise, and customer relationship management.
In addition to being a Licensed Dispensing Optician, Shirley is also certified by the American Board of Opticianry and the National Contact Lens Examiners.
"I'm happy to work with such a wonderful group of physicians," said Shirley. "In just the short time I've been with South Georgia Eye Partners, I've seen their genuine care for patients as well as staff. It really makes a difference and makes the work environment that much more enjoyable."
Petermann noted the new business name and the addition of Enfinger are exciting steps in the growth of his ophthalmology practice. " It is exciting to grow, add quality staff members and be able to offer the latest advances in eye care to patients in South Georgia," he said.
South Georgia Eye Partners' Optical Shop is located in the Valdosta and Tifton offices. They offer designer frames from Costa Del Mar, Perry Ellis, Cazal, Caviar, Randy Jackson, Fendi and more. The physicians will see patients in Valdosta, Tifton and Douglas. To learn more or to schedule an appointment, please call 244-2068 or 391-4180.
Tags:
cataract surgery Tifton
,
cataract surgery valdosta
,
Dr. Petermann
,
eye care Tifton
,
eye care Valdosta
,
eye doctor Tifton
,
eye doctor Valdosta
,
LASIK South Georgia
,
LASIK Tifton
,
LASIK Valdosta
,
Scott Petermann
,
South Georgia Eye Partners
---