Home » Blog » I SURVIVED ILASIK!
Posted by: South Georgia / North Florida Eye Partners in Blog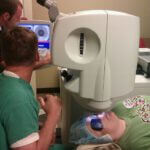 Well, after 8 years of living, breathing and preaching Lasik, I finally experienced the procedure for myself!  Why did I wait so long you ask?  It's kind of like the woman who's husband is a builder yet she lives in shanty town.  I've seen my best friend, my husband and countless others lay under that machine, but it just never occurred to me that I should do it.  Don't get me wrong, I was not tied to my glasses, I could fake it. However, my tricks eventually began to wear thin when patients started to notice that the woman selling them Lasik was holding the paper two feet from her face and holding her eye lids just as high as they would possibly stretch.  I agree, it was not a pretty sight! So on June 28, 2011, I became another truly satisfied patient.
Before it all began that day I was so excited!  I was telling everyone I was going to do it. Ilasik is great and ilasik is for me! I must admit though, when everything went quiet, it was like someone slapped me across the face and said WHAT WERE YOU THINKING? ARE YOU CRAZY?  I must admit it was a bit scary lying beneath that machine,  but when I heard a firm voice saying it was too late to back out, I immediately relaxed and proceeded to travel to my happy place.  I began to calm  and remember just exactly WHO was working on my eyes. It was the man I have called boss for 8 years, the man I would trust with my mom, the man I would trust with my child – Dr. Scott Petermann.
While visiting my happy place, from time to time I would here a word of encouragement and see a few flashing lights. Not once did I feel pain. When all was said and done and my vision cleared, I saw our head technician, Victoria holding out her hands to me.  I sat up in amazement!  I could see!
I was then led to an exam room where after being checked by the doctor, I was handed my bag of drops and out the door I went.  I went home, ordered take out, milked every ounce of sympathy out of my husband, then headed off to la la land as instructed.  I awoke the next morning to a whole new world!  Sure it was still a bit hazy, sure my eyes are a little red, sure people run screaming from me due to lack of eye makeup, but I CAN SEE! I can read! I can text! I can Facebook!  All without stretching my arms out and hiking my top lids over my eyebrows!
So, if you have questions about iLASIK, just call me, Karen Canada. I have the brochures, photos and all the info you will ever need.  I can even help you find your happy place!
Tags:
blade free lasik
,
blurred vision
,
Dr. Petermann
,
eye care Valdosta
,
eye doctor Valdosta
,
iLASIK
,
iLASIK south georgia
,
IntraLase
,
IntraLase Lasik
,
laser vision correction surgery south georgia
,
Valdosta ophthalmology
---