Home » Blog » New Lenses can Keep You InTouch™ with the Digital World
New Lenses can Keep You InTouch™ with the Digital World
Posted by: South Georgia / North Florida Eye Partners in News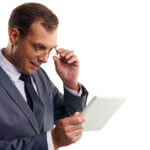 South Georgia Eye Partners
Optical Shop
is proud to announce a new lens product that can literally change the way you see the world.  The Shamir InTouch™ lens is designed to help you see the digital world more clearly.  How does it work?  Normally, the magnification (a.k.a. add) power in your lenses starts lower because you hold reading materials lower.  But in this digital world of ours, eye care professionals have discovered that we all hold our smartphones and tablets closer and higher up than you would a book or newspaper.
This new InTouch™ lens starts the magnification sooner, so that there is no adjustment period.  It's a no-line bifocal that is designed to optimize your vision for your day-to-day needs with an enhanced zone for smartphone and tablet use.
Come to South Georgia Eye Partners
Optical Shop
today to check it out for yourself.  These InTouch™ lenses are getting rave reviews.
---