Home » Blog » Real Patients with Real Results: Success with Cataract Surgery
Real Patients with Real Results: Success with Cataract Surgery
Posted by: South Georgia / North Florida Eye Partners in News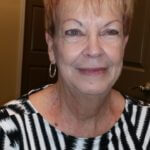 South Georgia Eye Partners' patient Joneal Fales of Broxton, Georgia, recently had cataract surgery performed by Dr. Scott Petermann.  During her procedure, Dr. Petermann placed the ReSTOR® Multifocal Lens in both of her eyes, and she is experiencing amazing results.
"I am extremely happy!  It is so nice to sit down and read without having to reach for my glasses.  Dr. Petermann and his staff were wonderful to me!  They even called to check on me the afternoon of my surgery," Fales said.  "Most people just don't do that these days.  I am sending all my family and friends to see Dr. Petermann.  I am so glad I chose South Georgia Eye Partners and Dr. Scott Petermann."
To read more about South Georgia Eye Partners' approach to cataract surgery, click
here
.  Make an
appointment
today for an eye exam – you could be on your way to better eyesight just like Joneal.
Tags:
Cataract Surgery
,
cataracts
,
douglas cataract surgery
,
Dr. Petermann
,
Dr. Scott Petermann
,
eye doctors tifton
,
help for cataracts
,
South Georgia Eye Partners
,
south georgia eye partners cataract
,
tifton cataract surgery
,
valdosta cataract surgery
---