Posted by: South Georgia / North Florida Eye Partners in News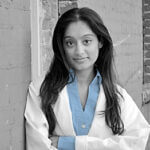 We are pleased to announce the addition of Ann A. Patel, O.D., to our eye care team! Dr. Patel, a board-certified optometrist began her training at Pennsylvania State University with a BS in biology and continued on to Nova Southeastern College of Optometry. She completed her primary care residency at SUNY College of Optometry in New York. While she treats all types of eye conditions, Dr. Patel's special interests include pediatrics, pre- and post-operative care of cataract and refractive surgery patients, primary eye care, and emergency eye care. Currently, she sees patients at the SGEP offices in Valdosta, Tifton and Douglas.
"I feel excited and blessed to be joining a well-established group with such an outstanding reputation within the communities they serve," said Patel. "I enjoy working alongside experienced physicians who pride themselves on attention to detail and top-notch patient care."
Prior to joining South Georgia Eye Partners, Dr. Patel worked at a VA hospital in North Carolina as well as at a private vision therapy practice with a large pediatric and special needs population. Additionally, she gained experience from a well-known laser center in Manhattan, New York, and a major public hospital in Brooklyn, New York.  Although she's lived in larger cities in the states and abroad, she's finding herself right at home in Valdosta.
"Valdosta is the perfect location for me," said Patel. "I'm just a short drive away from my family and friends in Georgia and Florida – and the icing on the cake – the beautiful scenery. I also love how hospitable everyone is here!"
When she's not working, Dr. Patel enjoys the outdoors – hiking, road biking and riding jet skis. She also loves watching a good movie and has recently taken up cooking.
"We are pleased to have Dr. Patel as part of the team," said Dr. Scott Petermann, board-certified ophthalmologist and owner of South Georgia Eye Partners. "She brings a lot to the table including a fresh, vibrant energy that I'm sure our patients will love."
 Fun Facts about Dr. Patel
Favorite food: Depending on her mood it could be Italian, Greek, Indian or Japanese.
Favorite movies: Lord of the Rings, Momento, Transformers, Iron Man, Bend it Like Beckham, The Italian Job
On her iPod: everything from country to rock. She likes a variety!
How she likes her coffee: sweet and creamy.
Favorite Book: Lord of the Flies by William Golding and I am David by Anne Holme
Something you may not know about her: She's a twin.
This is why a very good number of them have continued to work with this company whenever they are given more assignments than they can handle or when they just feel like scoring very high grades in any of the assignments that they are assigned to compete. If you are tired of getting substandard services from other companies or are tired of paying to mush for a paper that barely gets you the grade you want, place that order here and you will be surprised of the good Research Papers of this organization.
Tags:
Dr. Ann Patel Tifton
,
Dr. Ann Patel Valdosta
,
Dr. Patel South Georgia Eye
,
Dr. Patel South Georgia Eye Partners
,
Dr. Patel Tifton
,
Dr. Patel Valdosta
,
eye care
,
eye care douglas
,
eye care Tifton
,
eye care Valdosta
,
eye doctor Tifton
,
eye doctor Valdosta
,
South Georgia Eye Partners
---