Home » Blog » Did You Hear? Dr. Petermann & Dr. Kolisz Are Going to Be Waiters!
Did You Hear? Dr. Petermann & Dr. Kolisz Are Going to Be Waiters!
Posted by: South Georgia / North Florida Eye Partners in News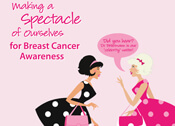 On Tuesday, October 4, the team at South Georgia Eye Partners (SGEP) is participating in the "Think Pink" event hosted by the Douglas/Coffee County Chamber of Commerce and Coffee Regional Medical Center. This networking reception and dinner is designed to raise breast cancer awareness – and for a little added fun – each reserved table is required to develop a theme and choose one male waiter for their team. SGEP's theme is "Making a Spectacle of Ourselves for Breast Cancer Awareness," and they selected none other than Dr. Scott Petermann and Dr. Eric Kolisz as their "celebrity" waiters for the evening.
"We are excited to be part of this event in Douglas," said Dr. Scott Petermann, owner and board-certified ophthalmologist for SGEP. "It's a fun way to raise awareness for a great cause, and I know the other physicians and staff can't wait to see me and Dr. Kolisz 'suited up' as their waiters."
South Georgia Eye Partners specializes in family eye care, iLASIK and cataract surgery with premium lens implants. And, while the practice name may still be new to some, SGEP physicians have been seeing patients from Douglas and the surrounding counties for over five years. It wasn't until earlier this year that they opened a permanent location in the former Coffee Eye Clinic. Petermann says the "Think Pink" event is the perfect opportunity for the practice to jump start its community involvement.
"Think Pink" takes place Tuesday, October 4 from 6:30 p.m. to 8:30 p.m. at the Central Square Complex in Downtown Douglas. Tickets are $20 per person. For more information about the event, call 912-384-1873.
---