Home » Blog » Over 40 Eye Care & Healthy Aging
Over 40 Eye Care & Healthy Aging
Posted by: South Georgia / North Florida Eye Partners in Blog, News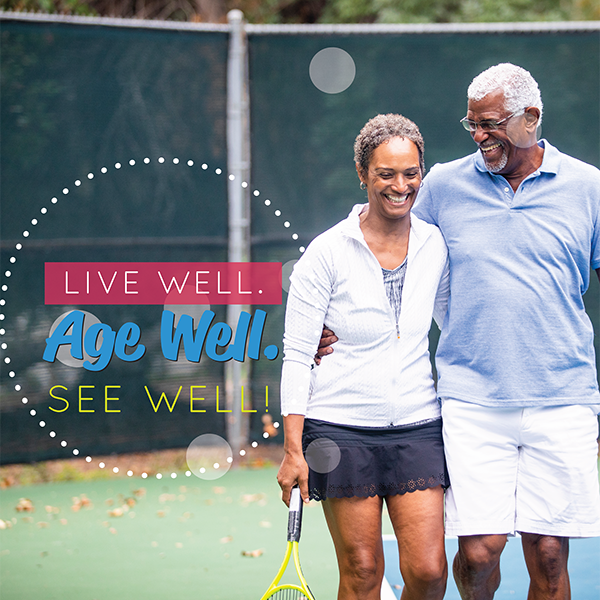 If you are over 40 years of age, you've probably noticed changes in your vision. Difficulty seeing clearly for reading and close work are among the most common problems adults develop between ages 41 to 60. However, this is also the time when other changes in your eyes can start to affect your work and enjoyment of life!
Beginning in the early to mid-forties, most adults may start to experience problems with their ability to see clearly at close distances, especially for reading and computer tasks. You may find you need to hold reading materials farther away to see them clearly. Print in the newspaper or on a restaurant menu may appear blurred, especially under dim lighting. This normal aging change in the eye's focusing ability, called presbyopia, will continue to progress over time.
Along with the onset of presbyopia, an increase in the incidence of eye health problems occurs during these years. Whether or not there is a need for eyeglasses, adults should be examined for signs of developing eye and vision problems. A comprehensive eye examination is recommended at least every two years. Don't rely on an insufficient substitute like the limited driver's license vision test or other vision screenings to determine if you have an eye or vision problem.
Adults over 40 may be particularly at risk for the development of eye and vision problems if any of the following exist:
Chronic, systemic conditions such as diabetes or high blood pressure.
A family history of glaucoma or macular degeneration.
A highly visually demanding job or work in an eye-hazardous occupation.
Health conditions like high cholesterol, thyroid conditions, anxiety or depression, and arthritis for which you take medications. Many medications, even antihistamines, have ocular side-effects.
Call us today if you are just beginning to experience some of these problems or even if you've been struggling with them for a while. Eye Partners' board-certified ophthalmologists and optometrists are here to help. We have locations in Valdosta, Tifton, Douglas, Moultrie, Waycross and Madison, Florida. Contact us by clicking here to view our phone numbers and find a location nearest you!
---