Home » Blog » Protect Your Eyes During the Solar Eclipse
Protect Your Eyes During the Solar Eclipse
Posted by: South Georgia / North Florida Eye Partners in News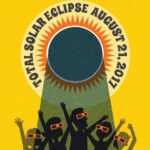 On August 21, 2017, North America – especially our region – will experience a significant solar eclipse.  This phenomenon only happens once or twice during a person's lifetime, but there are extremely important safety precautions that you need to take if preparing to view the eclipse.  South Georgia / North Florida Eye Partners wants to be sure that you know what steps to take in order to protect your eyes from potentially harmful UV rays from this solar event.
"The upcoming solar eclipse is exciting, but it can be potentially dangerous because of the fact that it has the ability to cause permanent damage to our retinas," said Dr. Wes Ross, a board-certified ophthalmologist at South Georgia / North Florida Eye Partners.  "There is a real danger associated with looking directly into the sun; we are concerned people don't understand the damage that can occur to their eyes from watching the eclipse.  However, there are a number of safe ways to watch the eclipse. We strongly encourage everyone to take the appropriate precautions and watch this extraordinary event safely."
A few safety precautions Dr. Ross noted include:
Wear protective eclipse viewing glasses. These MUST be ISO certified (meeting ISO 12312-2 guidelines) and made in the United States to ensure safety – there ARE counterfeit glasses being sold that do not meet the ISO specifications and do not provide adequate protection for your eyes.  The American Astronomical Society (AAS) has guidance online to help eclipse watchers determine the safety of their viewing glasses.  For those with children, be sure to remember the glasses may not be safe for small children if they don't fit well; and of course, if children take them off while looking at the sun their eyes will not be protected.
Use viewing devices: NASA.org lists ideas of certain devices you can build with binoculars and other household items that would allow for safe indirect viewing of the eclipse. Experiment at home this weekend and make creating a viewing device a family activity!
Watching the eclipse online or on television: gov will be live streaming and many stations will air the full eclipse live.
South Georgia Eye Partners recognizes the solar eclipse is a fascinating event and wants everyone in our southeastern region, who will be able to view a 90 – 100 percent eclipse, to witness this incredible event safely by taking the needed precautions.
Tags:
august 21 eclipse
,
does the eclipse hurt your eyes
,
eclipse 2017
,
eclipse glasses
,
how do I view the eclipse safely
,
solar eclipse
,
solar eclipse glasses
,
solar eclipse viewing
,
South Georgia Eye Partners
,
south georgia north florida eye partners
,
watching the eclipse
---