Home » Blog » Summer LASIK Special
Posted by: South Georgia / North Florida Eye Partners in News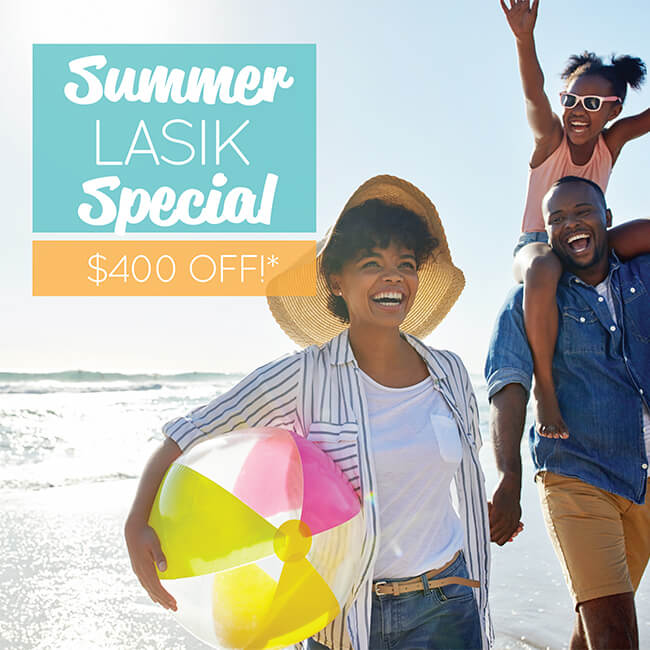 Celebrate clearer vision this summer with $400 off LASIK!*
During our Summer LASIK Special, anyone eligible for the procedure can receive $400 off LASIK ($200 per eye). Just be sure to schedule your surgery by September 1st to receive the summer discount!
A great benefit of LASIK is the majority of people with nearsightedness, farsightedness, and astigmatism are candidates for this vision correction procedure. With the use of a bladeless flap creator, and the wide range of vision imperfections that the FDA-approved treatment laser can correct, more people than ever before are excellent candidates for laser vision correction.
In most cases, LASIK candidates:
Are in overall good health
Have a stable eye prescription
Have no existing eye diseases
Are at least 18 years old
Want to change their life and lifestyle with freedom from glasses and contacts
If you've been thinking about vision correction for a while now but haven't been able to commit, or you've been told in the past you weren't a candidate, now is the time to re-evaluate.
Call today to schedule your visit at one of our convenient office locations in Valdosta, Tifton, Douglas, Moultrie, Waycross and Madison, FL. To find the number to your local Eye Partners location, just click here. We are happy to answer any questions you might have in order to find out if you are a good candidate for the procedure.
*$200 per eye.
---