Home » Blog » Dr. Wes Ross Joins Mission Trip to Honduras
Dr. Wes Ross Joins Mission Trip to Honduras
Posted by: South Georgia / North Florida Eye Partners in Blog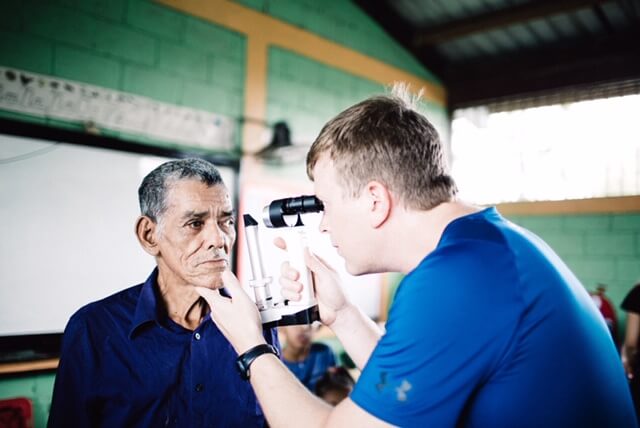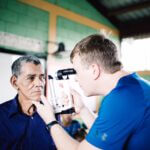 This September, South Georgia/ North Florida Ophthalmologist Dr. Wes Ross traveled to Honduras with a mission group to conduct medical clinics and volunteer construction in several rural villages.  The group is called IC13; they're based in Nashville, TN and they make a few trips a year to hold these clinics and help with infrastructure.
Dr. Ross and his wife, Shannon – a registered nurse – joined the group that included two ER doctors, a cardiologist, dentists, nurses and technicians.  The two worked in 4 villages over 4 days – each day riding 1-2 hours into some mountainous regions to get there.
"Generally around 700 people came to each clinic each day for medical exams, medicines, dental procedures, and we say over 100-150 people in the eye clinic each day," recalls Dr. Ross.
The clinics took place in open-air school buildings in the center of the villages, and most of the work that Dr. Ross was involved in was determining which glasses (of the over 500 pairs of prescriptions glasses donated and several hundred pairs of over-the-counter reader glasses) would help the person the most and matching a pair of donated glasses to them.
Dr. Ross said that there were a few people that had issues requiring surgery, and the IC13 organization was able to pay for them to go to the ophthalmology clinic at the nearest city to be treated.
"We found lots of cataracts, some glaucoma, a few congenital issues, and a retinal detachment that we were able to refer," says Dr. Ross. "Shannon has helped me run our eye clinics on our previous trips to Uganda, so we were able to really run things efficiently together."
Our Eye Partners family is so proud to have Dr. Ross as a part of our team – he truly gives back in every way.
Tags:
dr. ross mission trip
,
dr. wes ross
,
eye doctors douglas
,
eye doctors madison
,
eye doctors moultrie
,
eye doctors south georgia
,
eye doctors tifton
,
eye doctors valdosta
,
mission trip to honduras
,
south georgia eye mission trip
,
South Georgia Eye Partners
,
south georgia north florida eye partners
---