Home » Blog » Dr. Wes Ross Receives Board Certification
Dr. Wes Ross Receives Board Certification
Posted by: South Georgia / North Florida Eye Partners in Blog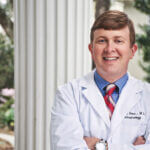 South Georgia Eye Partners is pleased to announce Dr. Wes Ross, a Tift County native and ophthalmologist with SGEP, recently received board certification in ophthalmology. After graduating from medical school at Mercer University in Macon, Dr. Ross completed his ophthalmology residency at the University of South Carolina in Columbia. He then came home to practice at South Georgia Eye Partners as an ophthalmologist.
"The process for board certification takes much longer in ophthalmology than many other fields of medicine," Dr. Ross explained. In fact, after completing an accredited ophthalmology residency program, candidates must sit for the "Written Qualifying Exam." The purpose of this is to test the breadth and depth of clinical and basic science knowledge gathered during residency. The exam lasts around five hours, and if the candidate passes, the physician then takes oral board examinations designed to demonstrate clinical and patient care abilities. These boards take place either in San Francisco or Boston and are an intensive half-day of discussing 60 clinical scenarios with a panel of ophthalmologists. Dr. Ross took his oral boards in June of 2015 and received the news that he passed in July.
"Because of the robust nature of the residency program I completed, I'm comfortable examining and treating a wide variety of patients," says Dr. Ross. "I treat refractive diseases like cataracts (including premium lenses) and perform iLASIK and PRK for nearsightedness, farsightedness, and astigmatism."
Dr. Ross also treats glaucoma with in-office lasers and performs other OR-based surgeries including some of the latest micro-invasive stents. Eyelid and brow lifts, are among the more popular ocuplastic treatments he performs, in addition to correcting a wide variety of eyelid issues with surgery or BOTOX®.
"I spend most of my time in the Tifton office of South Georgia Eye Partners, but I also see patients in our Douglas, Cordele, and Sylvester locations," says Dr. Ross. "I perform surgeries at Tift Regional, Coffee Regional, and Crisp Regional."
Dr. Ross is part of an impressive team at South Georgia Eye Partners. Scott Petermann, M.D. is also a board-certified ophthalmologist; and, Dr. Alan Peaslee, Dr. Eric Kolisz, Dr. Valerie Ferrell, and Dr. Melanie Hill are all board-certified optometrists in the practice, which has offices in Tifton, Valdosta, and Douglas, Georgia as well as Madison, Florida.
The journey to board certification was worthwhile and one that Dr. Ross completed with the goal of serving patients in south Georgia and north Florida with the best training possible.   Ross and his wife, Shannon, live in Tifton and have three children – sons Jay and Eli and a new daughter, June.
To schedule an appointment with Dr. Ross or one of the other physicians, call the office nearest to you.
Tags:
board certified ophthalmologists tifton
,
dr. ross
,
dr. wes ross
,
eye doctors tifton
,
eye doctors valdosta
,
ophthalmologists south georgia
,
optometrists south georgia
,
optometrists tifton
,
South Georgia Eye Partners
,
tifton eye doctors
,
wes ross board certified
,
wes ross m.d.
---