Home » Blog » All About Eyes – in Douglas!
All About Eyes – in Douglas!
Posted by: South Georgia / North Florida Eye Partners in News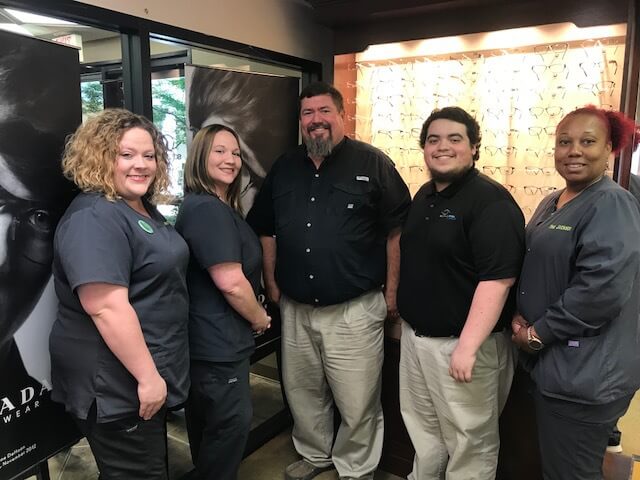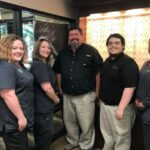 As most of you know, South Georgia/North Florida Eye Partners has five locations.  We are going to take some time in the next few months to focus on each of these offices…not only the practices themselves, but the people that make them what they are!  This month, we're focusing on our Douglas office.  Here's a little about what makes this location tick.
John Moore LDO-Lab manager- has been in Douglas since the building was finished in 1999. With his many years of experience he is our go-to-guy to pick out a perfect frame and lens combo to fit your needs. Eye Partners Douglas' Optical Shop has a new and fresh frame inventory that we are very excited about: Tiffany & Co., Tory Burch, Prada, Michael Kors, Versace, Ralph Lauren, Ray Ban, & Costa Del Mar just to name a few.
When it comes to getting in to see us, scheduling an appointment is fast and easy! With five doctors servicing the Douglas location the highly trained staff is excellent at fitting your needs and personality with the right doctor for you.
From cataract surgery to routine eye exams, the Douglas office has got you covered!
Angie Culler (Office Manager), Tina Jackson (Desk Lead/Optician Apprentice), and John Moore (LDO – Lab Manager) joined the Eye Partners team with years of experience working together. You can pick up on this immediately with the jokes and personal jabs they take at each other. They want the patients to feel at ease and at home so smiles and laughter are often heard throughout the office.
Whitney Phillips and Caleb Kerman (our Ophthalmic Technicians) both began their careers at Eye Partners during their high school years. Caleb is hoping one day to become and eye doctor himself and travels here daily from the BIG CITY of Hoboken!
Come by our Douglas office today and say hello – we'd love to see you!
South Georgia/North Florida Eye Partners specializes in iLASIK and cataract surgery with premium lens implants, glaucoma diagnosis and treatment, comprehensive eye exams for adults and children and a Dry Eye Clinic. Our brand new surgery center in Valdosta is a state-of-the-art facility where our board-certified ophthalmologists can perform any number of optical procedures. Eye Partners also has an Optical Shop fully stocked with designer frames and sunglasses to fit your style and personality.  To make an appointment with one of Eye Partners' physicians or to find our locations and hours, click here.
(Photo: L to R: Whitney Phillips-Ophthalmic Technician, Angie Culler-Office Manager, John Moore-LDO/lab manager, Caleb Kerman-Ophthalmic technician, Tina Jackson-Desk lead/Optician Apprentice)
Tags:
cataract surgery douglas
,
cataract surgery south georgia
,
douglas eye doctors
,
douglas optometrists
,
eye doctors douglas
,
eye doctors in douglas
,
glaucoma care douglas
,
iLASIK douglas
,
iLASIK south georgia
,
optometrists in douglas
,
south georgia eye doctors
,
South Georgia Eye Partners
,
south georgia north florida eye partners
---