Home » Blog » Over 40 Eye Care
Posted by: South Georgia / North Florida Eye Partners in Blog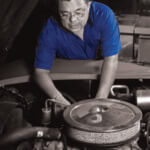 After 40 years of daily use, it's no surprise your eyes need a tune-up.
If you identify with one or more of the items below, it may be time to see an optical provider.
I've never had an eye exam or it's been more than two years since my last exam.
I wear "cheater" readers that I picked up from my local drugstore.
I have glasses/contacts for distance vision, but I have to remove the to see objects up close.
I have never worn glasses/contacts and find myself holding reading materials farther away in order to see them clearly.
I've noticed reduced tear production
I have diabetes, high blood pressure or other health conditions like high cholesterol, thyroid conditions, anxiety, depression, or arthritis.
I have a family history of glaucoma or macular degeneration.
Aging changes in various parts of the eye can cause a number of noticeable differences in how well you see. Early diagnosis and treatment of eye disease is key to preserving good vision throughout life. To learn more about solutions to these issues common with the aging eye,
click here
.
---