Home » Blog » SGEP's Dr. Alan Peaslee Returns to Dominican Republic for GA Eye Care Mission Trip
SGEP's Dr. Alan Peaslee Returns to Dominican Republic for GA Eye Care Mission Trip
Posted by: South Georgia / North Florida Eye Partners in Blog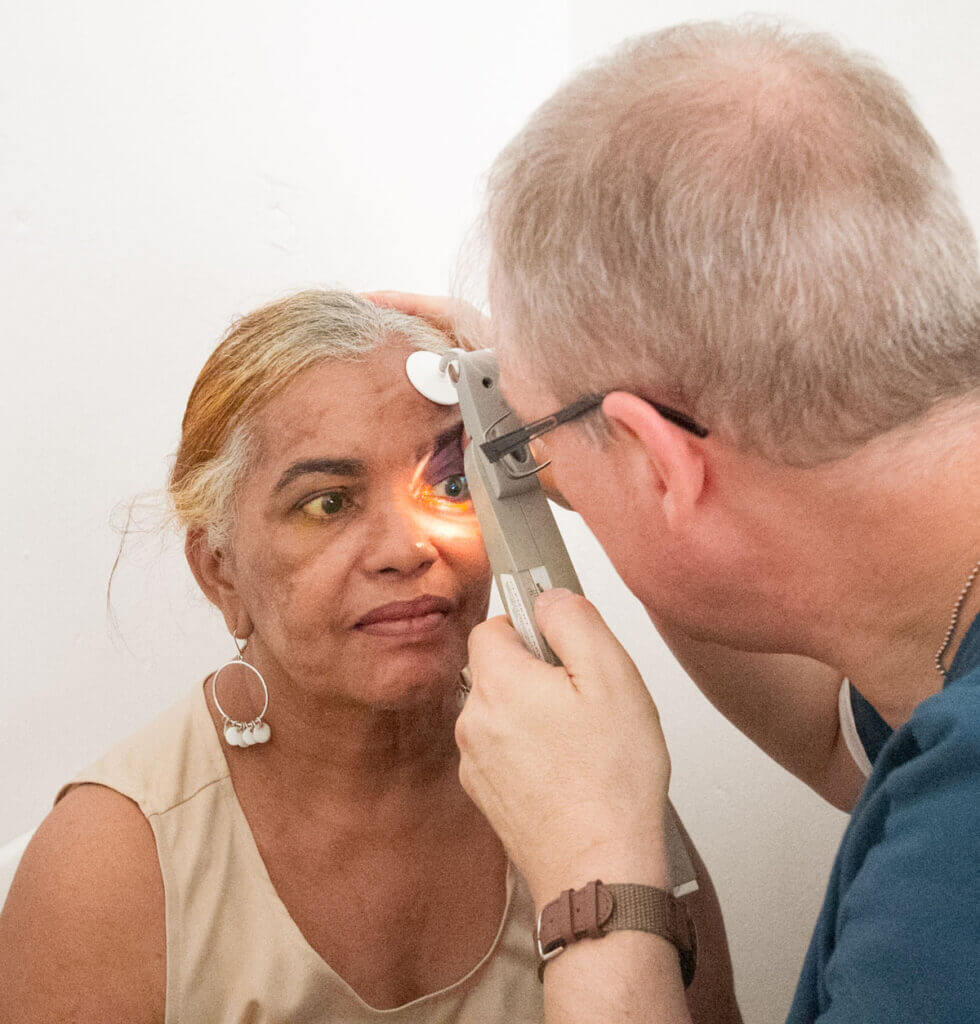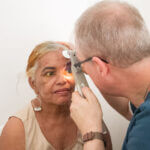 On January 31, 2015, a team of missioners from the Episcopal Diocese of Georgia returned for a second trip to Clínica Esperanza y Caridad, Domician Republic, with a larger team of 16 members and even more capability to care for the people of San Pedro de Macorís.. David Sweeterman from St. Peter's (Savannah) again led the mission, and optometrist Dr. Alan Peaslee from St. Anne's (Tifton) returned as the medical director.  In addition to Dr. Pealsee of South Georgia Eye Partners, the 2015 missionary eye care professionals included optician Jason Peaslee from St Anne's (Tifton) and South Georgia Eye Partners, Dr. Henry Croci, a retired ophthalmologist from Savannah, optometrist Dr. Sally Freeman, and optician Gina Overstreet from St. Luke's Episcopal Church in Rincon and Effingham Eye Care.
This year, the project also took an important step towards their goal of establishing a permanent missionary eye clinic in San Pedro de Macorís with the donation of examination equipment from South Georgia Eye Partners.  The Dominican Development Group provided transportation for the equipment to the Dominican Republic, and the team installed it during this year's trip.   Dr. Croci also worked with the Christian Blind Mission to establish a process to refer patients that require sight-restoring surgery.  This process will resolve one of the disappointments from 2014, as the team at that time had no means to provide surgical care those patients who required surgery.
St. Peter's (Savannah) was once again the lead church supporting this mission, while St. Anne's (Tifton) and St. Luke's (Rincon) are the other churches directly supporting this trip.  The Douglas Georgia Lions club and South Georgia Eye Partners are also once again supporting the mission, while new supporting organizations include Effingham Eye Care, the Delaware State Lions Club Sight Team, and Luxottica , a large international frame manufacturer.  The Delaware Lions Club provided 3,000 recycled glasses they collected, cleaned, measured, and shipped to the Dominican Development Group, and the team received a generous donation of 1,500 pairs of new reading glasses from Luxottica.
How can you support this mission to bring eye care to the people of San Pedro de Macorís?  The teams asks for your continued prayers for the success of the trip and its lasting effects on the Dominican Republic – and of course, donations of financial support and gently used glasses are also welcome until the end of February casino at any of our locations.
Donated funds help provide glasses for those with particularly unusual prescriptions and for some of the children in the area.  These glasses will be made in our lab, shipped back to the clinic, and delivered after the team has returned to the U.S.  The team also needs medical supplies and additional equipment to support this mission, and they continue to work towards equipping a permanent clinic to make future trips more productive and to enhance the services we are able to offer.
If you'd like to help with a financial contribution or by donating used glasses, just drop off your check/cash or eyeglasses at any South Georgia Eye Partners location in Valdosta, Tifton or Douglas, GA; or in Madison, FL.  Need directions? Just contact us or click here!
 **Glasses and monetary donations are welcome until February 28, 2015**
South Georgia Eye Partners – with locations in Valdosta, Tifton, Douglas and Madison, FL – specializes in LASIK and cataract surgery with premium lens implants, glaucoma diagnosis and treatment, comprehensive eye exams for adults and children and a Dry Eye Clinic. SGEP also has an Optical Shop fully stocked with designer frames and sunglasses to fit your style and personality.  To make an appointment with one of SGEP's physicians or to find our locations and hours, click here.
Tags:
dr. alan peaslee
,
eye doctors douglas
,
eye doctors madison
,
eye doctors tifton
,
eye doctors valdosta
,
GA Eye Care Mission Trip Dominican Republic
,
GA Eye Care Missionaries
,
Mission Trip Dominican Republic
,
South Georgia Eye
,
South Georgia Eye Partners
,
South Georgia Eye Partners Tifton
,
South Georgia Eye Partners Valdosta
,
St. Anne's Eye Care Mission Trip
,
St. Peter's Eye Care Mission Trip
---