Home » Blog » SGEP's Ophthalmologists Provide Innovative Eye Care Close to Home
SGEP's Ophthalmologists Provide Innovative Eye Care Close to Home
Posted by: South Georgia / North Florida Eye Partners in News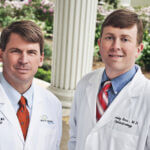 We depend on our eyesight for almost everything we do…every day.  When our vision is compromised – for any number of reasons – it can have a detrimental effect on our quality of life.
We realize that choosing a physician is an extremely important decision, and South Georgia Eye Partners' ophthalmologists Dr. Scott Petermann and Dr. Wes Ross are trained to deliver the latest in eye care technology.  These two SGEP physicians are both board certified in ophthalmology.  Dr. Petermann graduated from medical school at Wake Forest University and completed his residency in ophthalmology at Emory University in Atlanta.  Dr. Ross, after graduating from medical school at Mercer University in Macon, completed his residency at the University of South Carolina in Columbia.  From iLASIK surgery to the newest procedures in correcting cataracts, Drs. Petermann and Ross are experts in their field and are proud to provide the region's most comprehensive and first rate care to their patients.
South Georgia Eye Partners are committed to bringing the most advanced surgical capabilities to their patients.  iLASIK is the latest in laser vision correction technology. For people who have refractive errors, such as nearsightedness, farsightedness or astigmatism, iLASIK surgery could be the solution.  The latest in laservision correction technology, iLASIK (laster-assisted in situ keratomileusis), uses a laser to cut the corneal flap instead of a traditional blade.  It is safer, more precise and a more comfortable way to perform laser vision correction. Benefits include a more customized flap, a reduced risk of infection and dry eye, and faster healing time.  Both Dr. Petermann and Dr. Ross have extensive experience in iLASIK surgery and have helped thousands of people get rid of their need for glasses.
In addition to iLASIK, Dr. Petermann and Dr. Ross are well-qualified and have vast experience in the most current solutions to cataracts.  Cataracts are the leading cause of preventable blindness, and they develop when the eyes' lens becomes cloudy which impairs vision.  Surgery to remove the old lens and replace it with a new, clear lens is an effective method for improving poor eyesight due to cataract development.
South Georgia Eye Partners' Dr. Scott Petermann and Dr. Wes Ross perform LenSx® – a blade-free, laser-assisted cataract surgery which is the latest in cataract correction procedures.
"Bringing the laser to Valdosta was a personal mission of mine.  I believe it is my responsibility to provide my patients with the latest technology in eye care.   Close to 900 of my patients have benefited from laser assisted cataract surgery over the past 24 months," says Dr. Petermann.
This technology is an advanced alternative to traditional cataract surgery, which utilizes surgical blades.  LenSx® provides the surgeon with micron-level precision and improved predictability.  The procedure is tailored to the surgeon's specifications and delivers a remarkable degree of accuracy.  By creating the incisions and fragmenting the clouded lens with LenSx®, the surgeon creates a precise opening for the new lens to be optimally positioned.
SGEP performs both iLASIK surgery and cataract surgery with LenSx® as an outpatient procedure.  Pre-op and post-op visits for South Georgia Eye Partners patients can be scheduled in Valdosta, Tifton, Douglas, and Madison.  Call us today to make an appointment for a consultation – both Dr. Petermann and Dr. Ross are available to answer any questions or concerns.  The results could be life-changing.
Tags:
cataract surgery south georgia
,
cataract surgery Tifton
,
cataract surgery valdosta
,
dr. scott peterman
,
dr. wes ross
,
eye care south georgia
,
eye doctors south georgia
,
eye doctors tifton
,
eye doctors valdosta
,
ilasik surgery south georgia
,
ilasik surgery tifton
,
ilasik surgery valdosta
,
South Georgia Eye Partners
---