Home » Blog » Doctor Spotlight: Dr. Wes Ross
Doctor Spotlight: Dr. Wes Ross
Posted by: South Georgia / North Florida Eye Partners in Blog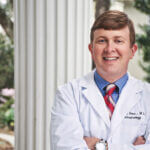 Time for another Doctor Spotlight!  This time we're learning more about Dr. Wes Ross.  Dr. Ross is a Tifton native, and he and his wife, Shannon, have three children – Jay (7), Eli (4) and June (16 months).  Besides being an accomplished ophthalmologist, Dr. Ross also builds furniture!  He built his family's dining room table as well as the kids' toy box.  He says he's always on the lookout for new woodworking projects.
A fan of the grill, Dr. Ross likes to smoke meats at home.  He makes his own rubs and likes to experiment with different types of wood.  His specialities range from turkey to ribs and pork butts, sometimes sausage, chicken and beef.
Last month, Dr. Ross took a trip to Uganda to work at an orphanage in a rural village.  While there, Dr. Ross and some fellow physicians held an eye clinic for the orphans and people in the village – they saw and treated several hundred people.  Before the trip, the group had collected hundreds of pairs of eyeglasses, so they were able to give many of the village people glasses that they otherwise would never have had access to.  The group also helped start construction on a very large chicken house that will be used to bolster the diet of the village children.
Dr. Ross' favorite activities revolve around playing with his kids at home – they spend lots of time in the yard doing projects, and the boys love to go camping with their dad.
"SGEP is a terrific place to work for a number of reasons," says Dr. Ross.  "The people in this area are wonderful to work with, and have a wide range of issues that we can help them with.  It's fun for us to do this work as a robust team, each with our own strengths.  I also really enjoy the staff in our offices, and they make this a fun place to come everyday because they seem like family."
We are proud Dr. Ross is part of our South Georgia Eye Partners team!
---