Home » Blog » Clear the Rack! Check out SGEP's Designer Sunglasses Sale – May 8th!
Clear the Rack! Check out SGEP's Designer Sunglasses Sale – May 8th!
Posted by: South Georgia / North Florida Eye Partners in Blog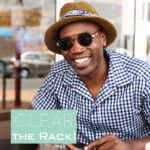 South Georgia/North Florida Eye Partners Optical Shops carry the latest in designer eye wear.  On May 8th, we are having a "Clear the Rack!" designer sunglasses sale.  We're spring cleaning… which means you can find your favorite designer sunglasses at bargain prices – up to 50% off!*  Don't miss this one day sale in our new Valdosta location only.  Our selection of Gucci, Tory Burch, Michael Kors, BCBG, Ann Taylor, Ellen Tracy, Silhouette, Armani Exchange, Ray Ban, Oakley, Costa Del Mar and more will fit any taste and budget.
When you are shopping for your spring and summer eye wear, be sure to think about eye protection as well.  Spring and summer mean spending more time outdoors, and exposure to bright sunlight can increase the risk of developing cataracts and age-related macular degeneration.  Ultraviolet radiation is the cause of this sort of damage, so shop for sunglasses that block all UV rays.
In addition to sunglasses, we offer designer frames (from all the brands mentioned above and more) for your prescription eyeglasses, and we provide expert assistance in helping you select what's best for you. Hope to see you May 8th!!
*Some restrictions apply.
---