Home » Blog » "Giving Tuesday" at Eye Partners
"Giving Tuesday" at Eye Partners
Posted by: South Georgia / North Florida Eye Partners in News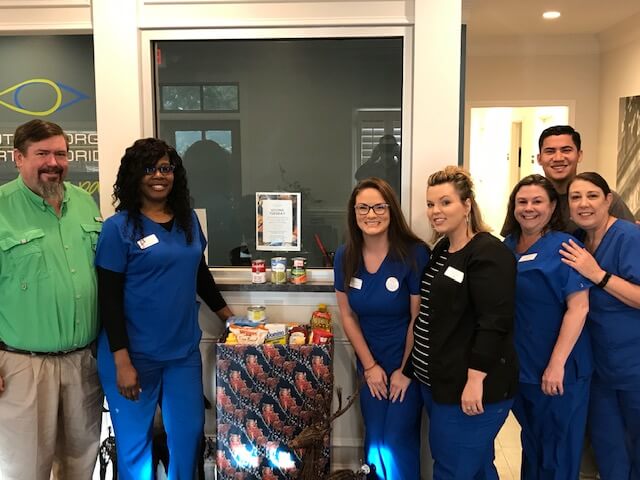 South Georgia/North Florida Eye Partners is spreading joy this holiday season by giving! Last week, all locations participated in "Giving Tuesday" by taking the time to help others in our local communities.
Our Tifton location collected both monetary gifts and canned food items. They donated the money collected to Patticake House, a child advocacy center. The canned goods and other food items were contributed to a local food bank.
Moultrie team members donated food, blankets, cleaning supplies, leashes, and body wash to the Colquitt County Humane Society. They even got to show the four-legged friends some love too by walking all of the dogs and playing with the kittens.
In Florida, our Madison location donated items to a local church that will send the collected items to the Bahamas, helping those still struggling to recover their lives, livelihood and homes after the hurricane.
Our Douglas location contributed gifts to an organization near and dear to our hearts: Georgia Lions' Camp for the Blind.  This special place allows handicapped and sight-impaired individuals to be carefree for a week, enjoy the great outdoors and make friends who walk a similar path in life.
For our Valdosta project, Dr. Lauren Rowe and staff members provided free eye exams and optical services to patients from The Haven, an organization that provides a temporary shelter and services to victims of sexual assault and domestic violence.
Needless to say, all team members involved went home with glad hearts and are already anticipating next year's Giving Tuesday. How will you give this year?
---