Home » Blog » Introducing PanOptix®!
Posted by: South Georgia / North Florida Eye Partners in News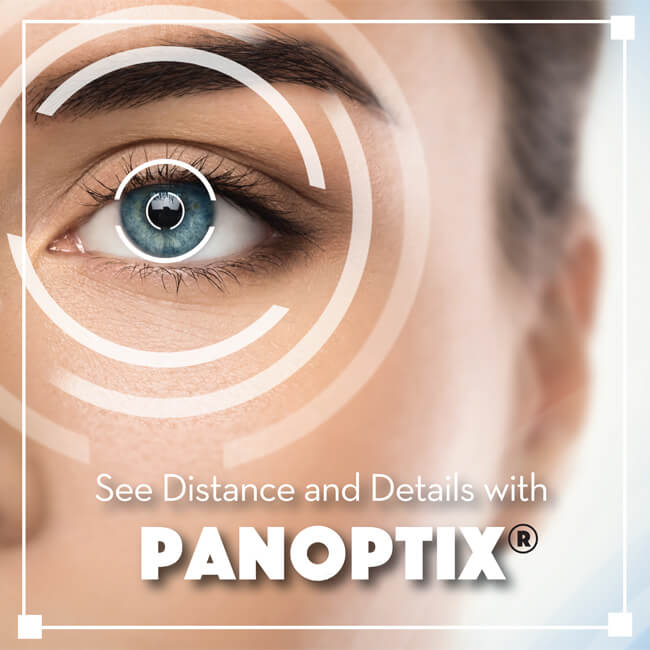 A Trifocal Lens Option for Cataract Patients
Many patients come to our office with concerns of blurry or cloudy vision. Our Optometrists and Ophthalmologists perform thorough exams, many leading to patients diagnosed with cataracts. Our surgical team at South Georgia / North Florida Eye Partners will educate patients on all of their options from surgical technology to lens options.  We have a state-of-the-art Ambulatory Surgery Center in our Valdosta location with a highly skilled team of nurses and staff. During cataract surgery, one of our ophthalmologists will insert a special lens implant into your eye, replacing your natural lens which has grown cloudy. When it comes to surgical options, South Georgia / North Florida Eye Partners offers patients several lens choices that your physician will discuss with you.
Our newest option is PanOptix® Trifocal Lens. While a monofocal lens can help you see at a distance, most patients still need readers or non-prescription glasses to see what's up close. The PanOptix® lens, the first of its kind on the market, provides a full range of vision so you can see the distance and the details without glasses!
We are excited to offer our patients this newest technology!
See Far Away. Clear vision at a distance so you can spot familiar faces!
See at Arm's Length. No more squinting while trying to read a menu!
See Close Up. Focused vision to see the details!
When you see more, you can do more! If any of the following symptoms sound too familiar, call us to schedule an appointment for an eye exam.
Cloudy or blurry vision
Bright colors become dull 
Glares/halos from headlights, lamps or sunlight 
Poor night vision 
Frequent prescription changes in your glasses
Difficulty reading in low light
Eye Partners provide the expertise, experience, and technology to our patients in South Georgia and North Florida who would otherwise have to travel a much greater distance. Patients love our Cataract and Laser Surgery Center of South Georgia for ophthalmologic procedures, like cataract removal! Learn more about our surgery center, here. We are located in Valdosta, Tifton, Douglas, Moultrie and Madison, Florida. Contact us by clicking this link to view our phone numbers and location closest to you! https://southgeorgiaeye.com/locations-eye-partners/
---