Home » Blog » South Georgia Eye Partners Now Offering iLASIK
South Georgia Eye Partners Now Offering iLASIK
Posted by: South Georgia / North Florida Eye Partners in News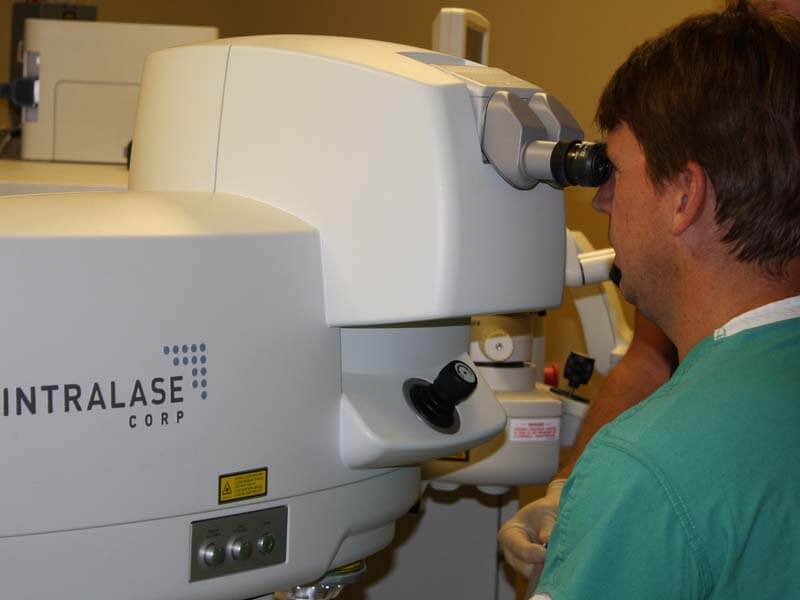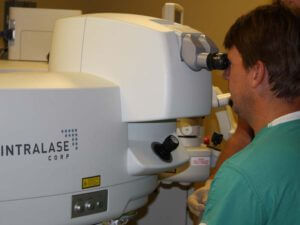 iLASIK – it's the latest in laser vision correction and it's now at South Georgia Eye Partners. An upgrade to traditional LASIK, iLASIK uses the exclusive Intralase Laser and is the preferred method of treatment for patients seeking a LASIK procedure. So what's the difference between traditional LASIK and iLASIK? It's all about the corneal flap. Every LASIK procedure begins with the cutting of the corneal flap, which is a thin layer of tissue that is folded back to expose the inner cornea. iLASIK, also known as Intralase, blade-free LASIK or all laser LASIK, uses a laser to cut the corneal flap while traditional LASIK uses a blade. The remainder of the procedure is conducted exactly the same. After the flap is cut, the physician proceeds with reshaping the cornea and correcting the patient's vision.
"iLASIK is a newer, safer and more precise way to perform laser vision correction," said Dr. Scott Petermann, ophthalmologist for South Georgia Eye Partners. "With this advanced technology, I am now able to use a laser instead of a blade, which allows me to adjust the size and shape of the corneal flap. The increased accuracy of the laser gives the patient a better, more customized flap fit."
While results are different for each patient, other benefits of iLASIK include a reduced risk of infection and dry eye as well as faster healing time. Additionally, the use of a laser creates a thinner, more precise flap, making the procedure gentler on the eye than a traditional blade.
"The great thing about iLASIK is that it gives us an opportunity to offer state-of-the-art technology that is safe, precise and comfortable," said Petermann. "We are excited to bring this service to South Georgia and North Florida."
In addition to iLASIK, South Georgia Eye Partners will continue to offer specialized services such as Custom LASIK and PRK. All procedures are preformed in the on-site iLASIK suite located in the Valdosta office. No referral is necessary. If you are interested in learning more about iLASIK, please contact Karen Canada at 229-244-2068 or [email protected] to set up a consultation. Click to view FAQs or watch an actual iLASIK procedure.
Tags:
all laser lasik
,
blade free lasik
,
Dr. Petermann
,
Dr. Scott Petermann
,
iLASIK
,
iLASIK north florida
,
iLASIK physicians south georgia
,
iLASIK south georgia
,
IntraLase
,
IntraLase Lasik
,
IntraLase Lasik south georgia
,
laser vision correction surgery south georgia
,
laser vision correction tifton
,
laser vision correction valdosta
,
LASIK South Georgia
,
LASIK Tifton
,
LASIK Valdosta
,
Scott Petermann
,
South Georgia Eye Partners
,
traditional lasik vs blade free lasik
,
Valdosta ophthalmology
---